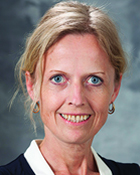 Congratulations are in order for UWHC's Dr. Joanna Ewa Kusmirek who recently presented at the National Society of Nuclear Medicine meeting.
Dr. Kusmirek, a Nuclear Medicine resident, gave her presentation, "The Sensitivity and Specificity of F-DOPA PET in a Movement Disorder" at the meeting which was held June 4-8 in San Antonio, Texas. The presentation was co-authored by Aaron F. Struck, MD, Lance T. Hall, MD, John M. Floberg, MS, and Scott B. Perlman, MD, MS.
Dr. Kusmirek was also recently given the 2010-2011 Resident Research Award by our Department of Radiology faculty.
See the full list of this year's departmental awards.