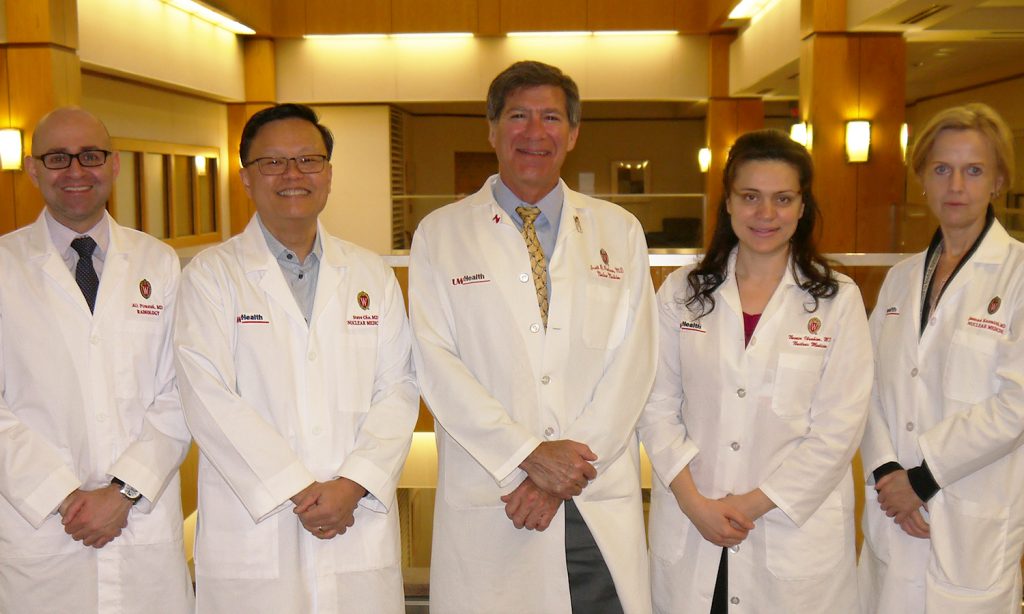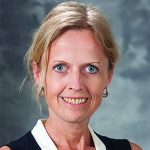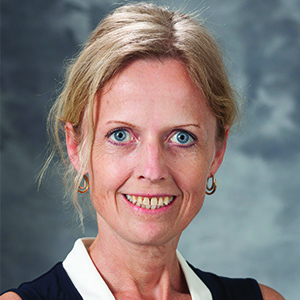 Cardiovascular imaging is critical in the diagnosis and treatment of patients with heart disease. UW-Madison radiologist, Joanna Kusmirek, MD, looks to improve the quality of this imaging and leads a team researching 13N-Ammonia Rest/Stress Myocardial Perfusion Imaging and FDG/Ammonia Cardiac Sarcoidosis. 
13N-Ammonia is a cyclotrone-produced radiopharmaceutical that allows for excellent assessment of cardiac perfusion, including quantification. According to the Society of Nuclear Medicine & Molecular Imaging, a Stress/Rest Myocardial Perfusion Imaging Study is "a type of stress test that uses PET or SPECT imaging of a patient's heart before and after exercise to determine the effect of physical stress on the flow of blood through the coronary arteries and the heart muscle." The stress portion of the exam is performed in the PET/CT scanner room after intravenous injection of a vasodilator, regadenoson. The patients require close cardiac monitoring and continuous EKG.   
The goal of the project is to improve cardiovascular patient care, specifically accuracy of diagnosis and risk assessment in ischemic heart disease. N13-ammonia PET provides better quality images, scores higher diagnostic accuracy, and results in lower patient radiation dose compared to SPECT/CT. The advantage of PET myocardial perfusion exam is its ability to quantify myocardial blood flow in addition to qualitative assessment. There are limited diagnostic options for patients with suspected microvascular dysfunction, and N13-ammonia PET helps to avoid invasive testing and high radiation dose. As well, 13N-Ammonia PET/CT provides better evaluation and treatment guidance in patients with multivessel disease, certain conductive disorders, and post heart transplant. The CT portion of the exam allows for calcium score quantification for cardiovascular risk assessment. 
Another group of our patients that benefit from 13N-Ammonia PET/CT are those with known or suspected cardiac sarcoidosis. Adding 13N-Ammonia PET scan to FDG PET provides additional information to guide the treatment and is recommended by several societies' guidelines. "When we performed our first clinical study, we all were in the scanner anxiously waiting to see the results. We were so happy when we realized that the exam was successful and provided additional information important for the referring cardiologist.  I feel so lucky to be a part of the team and looking forward to working on expanding this project in the future," says Dr. Kusmirek. 
This multidisciplinary project team is composed of members from the Department of Radiology, the Radiopharmaceutical Production Facility, and the Department of Medicine including Joanna Kusmirek, MD; Scott Knishka, BCNP, RPh; Jeannie Batterton, PhD; Christina Jaskowiak, BS, CNMT; Tyler Bradshaw, PhD; and Chuck Stone, MD. Dr. Kusmirek feels fortunate to lead such a strong team. "This has been a long journey and a great team effort.  I have had a fantastic experience working on this project with so many amazing colleagues. I think we have the best people possible – hardworking, smart, and determined." It's individuals like these that make innovations in patient care possible.