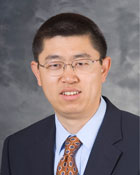 Professor Weibo Cai, Ph.D. is fully immersed in nanotechnology research. The burgeoning tech is playing an increasingly important role in both imaging and therapy, and the Cai Research Group is on the cutting edge.
One of the research focuses of the group is theranostics. Theranostics is the combination of diagnostics and therapy, and advances in nanotechnology could allow for that combination within a single particle. While relatively early in development, theranostic particles display great potential for clinical use.
Professor Cai spoke with Health Imaging about his current theranostics research and the bright future for the field, noting the improvements in particle structure and materials. "Encouragingly, over the past two decades, over 35 imaging or therapeutic nanoparticles have been approved by the FDA for clinical trials," said Cai.
Read the article at Health Imaging.