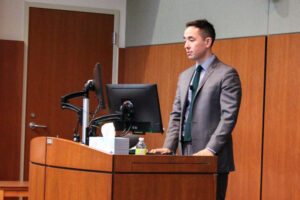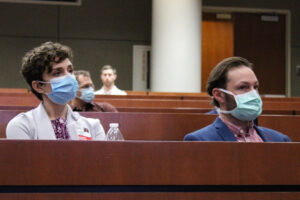 On Saturday, April 30, the University of Wisconsin – Madison's Department of Radiology hosted the first in-person Zachary Clark Radiology Research Symposium since 2019. The morning was full of informative oral presentations including: 
Allison Couillard, MD: "Percutaneous Biopsies in the Abdomen and Pelvis guided by CT Electromagnetic Navigation" 
Cameron Adler, MD: "Can Contrast-Enhanced Ultrasound Improve Renal Mass Biopsies?" 
Ruiqi Geng, MSc: "Automated MR Image Prescription of the Liver using Deep Learning: Development, Evaluation, and Prospective Implementation" 
Zachary Stewart, MD: "Shear wave speed as a useful biomarker of tendon health: Correlation with conventional US and clinical scores in an RCT assessing PRP for treatment of jumper's knee" 
Changhee Lee, MD: "Radiology-Pathology correlation of 18F-DCFPyL PSMA PET and multi-parametric prostate MRI in men with prostate cancer" 
Matthew Lee, MD: "Fully automated body composition biomarkers for predicting overall survival at staging CT for colorectal cancer" 
Jitka Starekova, MD: "Myocarditis associated with mRNA COVID-19 vaccines: MRI findings" 
After the oral presentations, attendees had the chance to check out the online poster gallery. Here's a full list of electronic submissions: 
 Marcus Carr, MD: "Spontaneous Intracranial Hypotension From Paraspinal Venous Malformation Resulting in Spinal Csf-Venous Fistula" 
Allison Couillard, MD: "Imaging Characteristics of Histotripsy on CT and MRI" 
Mitchell Fox, MD & Addison Elston, MD: ""MR imaging of the posterosuperior glenohumeral ligament, a newly described shoulder ligament" 
Ryan Griesbach, MD & Nick Stabo, MD: "Thoracic Radiology for the Neuroradiologist" 
Matthew Lee, MD: "Deriving Critical Thresholds for Automated CT-based Body Composition Measures for Predicting 10-year Risk of Death and Other Adverse Outcomes" 
Matthew Lee, MD: "Comparing thin and thick section CT image data for fully automated AI-based body composition algorithms" 
Scott Mauch, MD: "Hepatic and Renal Histotripsy in an Anticoagulated Porcine Model" 
Alex McDonald, MD: "Platelet-Rich Plasma Treatment: Biologic Principles and Treatment Considerations for the Musculoskeletal Radiologist" 
Bradley Otto, MD: "Development of a Head and Neck Curriculum for Early Learners Utilizing Infographics" 
Bradley Otto, MD: "Lumbosacral Plexus Pathology" 
Jennifer Pitts, MD: "Ultrasound-Guided Nerve Block Prior to Biopsy of Suspected Neurogenic Tumors: Safety and Feasibility in a Pilot Study" 
Jennifer Pitts, MD: "Dislocations about the Knee: Three Diagnoses You Need to Be Able to Make" 
Varun Razdan, MD: "In vivo assessment of colonic elongation over time using serial CT colonography" 
Thomas Reher, MD: "Quick Mix: Often Good Enough" 
Isaiah Tan, MD: "Ultrasound-guided musculoskeletal intervention of the ankle and foot: kicking pain to the curb" 
Isaiah Tan, MD: "Take a walk on the wild side: CNS manifestation of zoonotic infections" 
Following the time to view online posters, the keynote speaker, Pari Pandharipande, MD, MPH, FACR, gave her keynote address, "Imaging and Value: A Patient-Centered Approach." Dr. Pandharipande travelled from Columbus, Ohio, where she serves as the Chair of the Department of Radiology at The Ohio State University.   
Thank you to all who attended and presented!