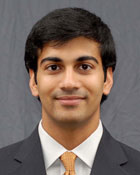 Chief Resident Jacob Thomas, M.D., presented a lecture identifying how often catheter-directed CT (CDTC) angiography provides data unavailable by other imaging modalities, and how frequently that data directly altered treatment decisions during transarterial chemoembolization (TACE).
CDCT has emerged as a key tool in intraprocedural decision making during embolization procedures and can produce high quality images of liver tumors. The definition of the images is so sharp that it can better define anatomy and shift the location of delivery.
A total of 212 chemoembolization procedures were reviewed in 86 patients, two thirds of whom were suffering from hepatocellular carcinoma (HCC), with the remaining third suffering from metastatic disease. Tumor multiplicity varied amongst the study population, and size ranged from 1.6 to 18.1 cm.
The imaging was performed in the GE Angio-CT interventional suite, and the injection used the two breath-hold technique with a catheter in the target hepatic artery branch. Arterial and portal phase images were reviewed intraprocedurally by the interventional radiologist.
The results were indicative of the effectiveness of CDCT, as direct changes to treatment based on information only available on CDCT occurred in 22% of the patients. Thomas concluded his presentation by stating, "The ability to detect small and hypovascular lesions before the procedure is vastly improved, and CDCT still plays a critical role in defining the vascular supply to tumors in order to ensure complete coverage of the target lesions and avoid non-target embolism."