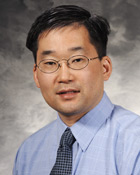 We are pleased to announce that Dr. David Kim, Associate Professor in Abdominal Imaging, has accepted the newly created role of Vice Chair for Education. He has done an outstanding job as Program Director, and will continue to oversee the residency program with help from his Assistant Directors, Drs. Allison Grayev, Jessica Robbins, and Timothy Ziemlewicz.
Over the past year, it has become apparent that there is a need for more integration between the missions of patient care, research, education, and outreach, and this will be accomplished by the newly created position at the Vice Chair level.
In his new role, Dr. Kim will act as an effective advocate in the Department and amongst the Vice Chairs to promote successful collaboration across all of our missions. Dr. Kim will oversee all educational activities in the department, and work with our course directors to lead the educational programs forward into the future.
Dr. Kim completed both his undergraduate and medical degrees at the University of Michigan. From there he completed his residency at the Mallinckrodt Institute of Radiology at Washington University, followed by an Abdominal Imaging fellowship at Duke University Medical Center. He then spent five years at Mid-South Imaging and Therapeutics in Memphis, TN before joining the Department of Radiology at UW-Madison. Here at the UW, his research interests primarily revolve around CT colonography.
Congratulations Dr. Kim! We look forward to welcoming your suburb leadership skills and education-focused drive as a member of the Vice Chairs leadership team.