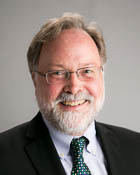 Dr. Howard Rowley, UW SMPH chief of neuroradiology, is currently gracing the cover of the March 2012 edition of RSNA News, along with Professor Lin Tun Tun (president, Myanmar Radiological Society), Jeffrey Peterson, M.D. (residency program directory, Mayo Clinic), and Thomas Kinney, M.D. (professor of clinical radiology, University of California, San Diego).
The feature story, "Visiting Professors Inspired by Resourcefulness of Myanmar Radiologists," covers Drs. Kinney, Peterson, and Rowley's visit to Myanmar in November 2011 through RSNA's International Visiting Professor program. While there, the three physicians devoted time to educating Myanmar's radiologists, lecturing at local hospitals, and assessing the state of healthcare in a country facing dire economic conditions.
"Myanmar is [a] country ruled by military dictatorship, with very little in terms of medical resources," Dr. Rowley was quoted saying in the article. "But people are working hard and committed as much as any of us—they still put their heart and soul into it. It gives us an appreciation of what we have in the U.S. that we sometimes take for granted."
Read this month's copy of RSNA News to find out more about Dr. Rowley's time in Myanmar.