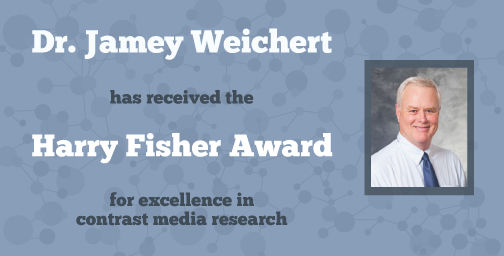 "It was the biggest award of my career — and I almost didn't make it to Berlin," said Jamey Weichert, Ph.D., about his hurried efforts to get to Germany to receive the 2015 Harry Fisher Award for Excellence in Contrast Media Research. The biannual award is given to a recipient selected by committee members of the Contrast Media Research (CMR) symposium, held this year in Berlin, Germany. However, Dr. Weichert nearly missed his flight.
Upon discovering that his passport was expired, Dr. Weichert had to drive to the Chicago passport office to renew it, and barely made it back to the Dane County Regional Airport in time for his trans-Atlantic flight. Hectic journey aside, Dr. Weichert was deeply touched by his selection, as the award is among the most prestigious in the field of contrast imaging.
He has been an Associate Professor of Radiology, Medical Physics, and Pharmaceutical Sciences at UW since 2005, and currently serves as the faculty director of the UW Small Animal Imaging Facility. His published works include over 50 peer reviewed reports, 200 abstracts and proceedings, and 30 patents, mainly relating to targeted cancer imaging. In addition, he is a founding member and chief scientific officer of Cellectar Biosciences, a Madison-based startup with strong ties to UW Radiology.
"The fact that we can use imaging to quantitatively guide cancer therapies and possibly predict response is key in the development of new cancer treatments. Unlike classical chemotherapy agents we have the ability to monitor our therapy agents in four dimensions, an unimaginable feat 10 years ago," said Dr. Weichert. "CMR is a prominent international group of academic and industrial thought leaders in the field of imaging and contrast agent development. To receive the highest award given by this select group of colleagues in my field is both extremely meaningful and humbling."
The award's namesake, Harry W. Fisher, M.D., was devoted to excellence in all aspects of his work, and was a pioneer and innovator in the field of X-ray contrast media, clinical translation, and safety and expansion of novel uses of contrast media.