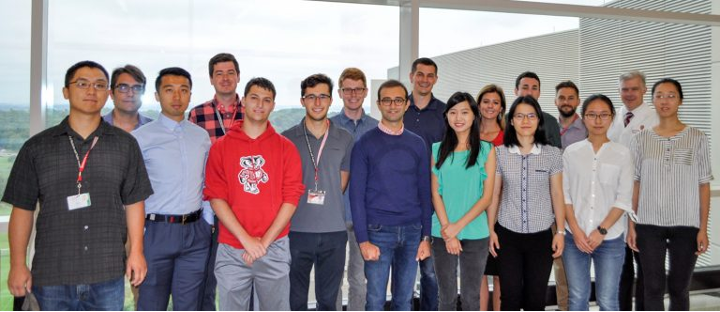 The UW Liver Imaging Research Program (LIRP) was started in 2009 by Vice Chair of Research and Professor Scott Reeder, MD, PhD. The LIRP is a multidisciplinary lab based in Radiology and Medical Physics, but with multiple collaborators across numerous departments at UW. The program aims to develop advanced imaging techniques, with a focus on MRI, to detect and quantify diseases in the liver and abdomen to improve patient care. Continue reading to learn more about the LIRP and its current research projects.
Dr. Reeder was interested in starting the lab for multiple reasons. He is deeply interested in imaging technology and believes there are many opportunities to invent, develop, and apply new imaging devices. In addition to the technology, the liver is a unique organ with many important unanswered questions that are important to address to improve human health. "The liver is a remarkably interesting organ that is involved in multiple disease properties, such as metabolic diseases, obesity, and iron overload. It is important for cancer research, both for primary liver cancer and metastatic diseases. There is a lot of fascinating pathophysiology in the liver, which keeps the research exciting," he says.
The LIRP also provided Dr. Reeder an opportunity to combine his knowledge from multiple specialty trainings into a concentrated area of research. He specialized in both abdominal and cardiovascular imaging, and clinically oversees the Department's MRI service. While the liver is in the abdominal cavity, it has important interactions with the cardiovascular system. It is one of the only organs in the body that gets dual blood supply, from the hepatic artery and portal vein, with unique hemodynamics. Dr. Reeder's combination of experience and knowledge have helped shape LIRP into an impactful research group around the world. "Under Dr. Reeder's leadership, the LIRP is a world-class research group that combines cutting-edge technical development with real-world impact in clinical imaging," says Assistant Professor and affiliated faculty of the LIRP Diego Hernando, PhD.
Collaboration is key in the LIRP, as researchers work closely with other labs in the Department and around the country. One lab that they collaborate with frequently is the Quantitative Imaging Methods Lab (QIML), directed by Dr. Hernando. Currently, the two labs are working on numerous research projects. One of these projects is focused on developing and validating MRI methods for quantifying fat and iron in the liver. This project is being worked on by Ruiyang Zhao, Dr. Reeder, Dr. Hernando, Dr. Kevin Johnson, and Dr. Jitka Starekova. The initial results are promising, and current projects are focused on optimizing and evaluating these methods in a systematic manner. In addition to this project, the labs are working together to develop AI-based methods for automated image prescription of liver MRI. They are also completing a multi-center study to validate rapid and reproducible MRI-based quantification of liver iron overload at various locations with different MRI vendors and protocols.
The LIRP is launching a major research project focused on measuring blood flow to the liver in patients with cirrhosis. A potential deadly complication of cirrhosis is varices, which is when veins become dilated to the point where they can burst and bleed catastrophically. The lab is developing methods to noninvasively determine which patients are more likely to have varices so that hepatologists can take preventive measures.
There are many other exciting research projects currently happening in the LIRP. One project is focused on MR elastography to measure liver stiffness as a biomarker of inflammation and fibrosis in chronic liver disease. Another is using relaxometry to measure MRI properties of the liver that indicate the presence of inflammation and allow the researchers to quantify iron concentration and liver fat. The lab also has projects looking at the esophagus in early disease and precancerous states. And recently, the lab published a paper in JAMA on myocarditis in athletes who tested positive for COVID-19. One thing is for sure, the lab is keeping busy pushing the bounds of liver research!
Throughout its years, the LIRP has consistently focused on quantitative imaging biomarkers. A lot of imaging is qualitative, and the lab wants to turn these qualitative descriptors into quantitative measures with specific values. For example, signal intensity of an image could have corresponding values for fat concentration within the liver. This is Dr. Reeder's favorite research within the lab, and will continue to be one of the lab's main focuses going forward. "Our goal is to develop precise, accurate biomarkers. We want to create reliable markers that work every single time to make these imaging methods more impactful for providers and for patients," Dr. Reeder says.
One of the best things about the LIRP is the interaction with so many great people. "We're very lucky to have a group of really terrific, kind, smart, hardworking people, and it is a fabulous working environment. It is a lot of fun to come to in each day and work with these very special and talented people," says Dr. Reeder.
Learn more the LIRP and their current projects here: https://lirp.radiology.wisc.edu/