Clinical Professor
Nuclear Medicine Modality Chief, Community Radiology
Community Radiology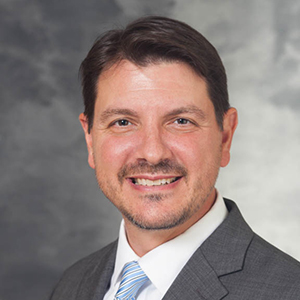 Biography
Dr. Chris Guglielmo is a native of New Jersey and attended college at West Chester University of Pennsylvania
where he completed his bachelor of science in
Cell and Molecular Biology. During college, he participated in an undergraduate research internship in the lab of Nobel Prize laureate
Peter Doherty, PhD, at St. Jude Children's Research Hospital, Memphis, TN. There, he studied how the immune system recognizes and
kills virally infected cells. After college, Dr. Guglielmo accepted a research technologist position at St. Jude in the lab of Elaine Tuomanen, MD, a
world recognized leader in bacterial pathogenesis research, where he developed in vitro and animal models of Streptococcus pneumoniae
pathogenesis. After four years with St. Jude, Dr. Guglielmo then began his medical career at the University of Tennessee-Memphis where he was a four-year
Honor Council member and ultimately Honor Council president.
A one-year surgical internship brought Dr. Guglielmo to the University of Tennessee Medical Center in Knoxville to begin
his postgraduate medical training. After completing his internship, he then completed a residency in nuclear medicine and subsequently a
diagnostic radiology residency, in which he served as chief resident. Having clinical training in both nuclear medicine and diagnostic radiology,
as well as a strong background in basic science research, Dr. Guglielmo developed a passion for molecular imaging that brought him to the
University of Wisconsin–Madison. Here, he furthered his training as a molecular imaging fellow with the Department of Radiology, in order
to improve existing, and develop new, clinical applications for PET/CT. Dr. Guglielmo is board certified in radiology and board eligible in
nuclear medicine with plans to sit for the nuclear medicine board exam in the fall of 2012. He currently practices within the Community
Division of the Department of Radiology.
Education
Undergraduate:

West Chester University of Pennsylvania

Medical School:

University of Tennessee-Memphis

Residency:

University of Tennessee Medical Center (Knoxville, TN)

Fellowship:

University of Wisconsin - Madison