Physician Assistant (APP)
UWMF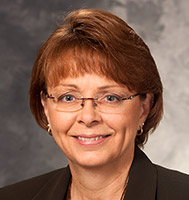 Biography
Born and raised in Wisconsin, Deb's interest in radiology began when she attended Radiologic Technology School at Madison General Hospital (now Meriter Hospital) after high school. She worked as a rad tech for 15 years until she went back to school to obtain her Bachelor of Science at UW-Madison in Physician Assistant studies. After completing her degree, she was a PA in Family Practice and Primary Care for 15 years. Subsequently, she served as an operating room first assist and inpatient care PA in Orthopedics for 3 years, before joining the Radiology Team at UW Health in 2016.
Deb currently specializes in fluoroscopic musculoskeletal injection and GI procedures, in addition to conducting history taking and physical exams on patients for the Neuroendovascular team.
In her free time, she enjoys spending time with her husband, classic cars, scuba diving, sewing and crafts.
Education
Undergraduate:

University of Wisconsin (Madison, WI)

Bachelor's in Physician Assistant Studies:

University of Wisconsin (Madison, WI)