Mission Statement
The mission of the Department of Radiology is to improve human health through innovation in clinical care, imaging research, and education.
We achieve this because we:
Provide outstanding, respectful, and culturally sensitive patient care.
Improve the health of our patients by creating innovative technology and translating imaging research into clinical practice.
Recruit, educate, and develop imaging healthcare professionals.
Share our clinical expertise through regional outreach to the people of Wisconsin and their healthcare providers.
Value Statement
The UW Department of Radiology provides excellence in patient care in an environment that is respectful of others, adaptive to change, accountable for outcomes, and attentive to the needs of underserved populations. We are dedicated to sharing our clinical expertise through regional outreach to the people of Wisconsin and their healthcare providers. We provide an environment for education of our trainees, staff, and healthcare professionals through scholarly conferences and continuing education programs. We improve human health by developing innovative imaging technology through basic and translational research in collaboration with colleagues at UW-Madison and beyond. We support the Wisconsin Idea to improve peoples' lives beyond our walls by collaborating with industry to translate new technology into daily clinical practice. We support the economic development of Wisconsin and the financial wellbeing of UW Health. We recruit and develop dedicated faculty and health professionals who inspire their co-workers and students towards lifelong learning, research discovery, service to their community and clinical excellence.
Welcome from the Chair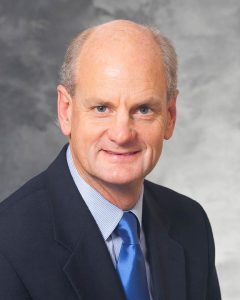 Welcome to the University of Wisconsin Department of Radiology. It is our privilege to be part of one of the great public universities, and in turn, our department has made substantial contributions to the world-renowned reputation of the University of Wisconsin. Reflecting on our 82-year history, I am extraordinarily proud of the contributions that University of Wisconsin faculty have made to the field of radiology. Highlights include the publication of the seminal diagnostic radiology educational text by Drs. Paul and Juhl in the '70s, the development of digital subtraction angiography in the '80s, magnetic resonance angiography in the '90s, and promising cancer diagnostics and therapeutics in the millennium. We are proud to have catalyzed imaging research by starting the first independent Department of Medical Physics led by the "father" of Medical Physics, Dr. John Cameron.
Looking towards the future, I believe our faculty and staff are poised to lead change in an era of unprecedented opportunity for imaging and image-guided therapy. We have a stable force of more than 73 faculty in nine subspecialty divisions, and many of our faculty are world-renowned for their contributions to research and education in Radiology. The University of Wisconsin Hospitals and Clinics (UW Health) has invested more than $60 million in our facilities and equipment over the past 10 years, and this commitment is evident throughout the state-of-the-art 80,000 sq ft clinical care area that we enjoy at UW Health. Our partner community hospitals continue to work with us to achieve our goal of providing outstanding clinical care and imaging services to Wisconsin citizens in the region. In this effort, we provide a unique combination of on-site general radiology services for our community partners, with backup provided by world-class subspecialty radiologists remotely by teleradiology.
Importantly, we are poised to lead further innovation in imaging research now that we have moved our research group into our 50,000 sq ft imaging sciences research center, part of the Wisconsin Institute for Medical Research (WIMR). The imaging research center provides an unprecedented resource that translates innovation from bench to bedside and spans a scope from mouse to man. This new center includes advanced MRI, CT, PET, cyclotron, radiochemistry, digital angiography, ultrasound, and magneto-encephalography systems for small animal, large animal, and human research applications. Our industrial partners have provided state-of-the-art imaging equipment and access to research platforms for our scientists to create new imaging methods and applications. Most importantly, the imaging research center now provides state-of-the-art laboratory, office, teaching, and interactive space for more than 200 radiology and medical physics researchers.
Our mission is to advance human health through innovation in imaging and image-guided therapies. I believe our department has had an enormous impact on patient care, research, and education in the field of diagnostic and interventional radiology. As chair of our department, I am extraordinarily enthusiastic about the future of the University of Wisconsin Department of Radiology. Please join us in our effort to achieve our mission by joining our research effort, learning from our educational initiatives, or witnessing our outstanding patient care.
Sincerely,
Thomas Grist, Department Chair