In accordance with the recommendations of the Society of Chairs of Academic Radiology Departments (SCARD), the University of Wisconsin Abdominal Imaging and Intervention Fellowship will be adjusting our application and interview schedule. Specifically, our application process for the 2025-2026 fellowship year will open on 11/1/2023 and our interview process will begin on 1/1/2024. All academic departments are required to follow this same application process for the benefit of the involved trainees. In the meantime, if you have any questions regarding the fellowship, please feel free to contact the fellowship coordinator, Kris Lee at KLee3@uwhealth.org .
About the Abdominal Imaging Fellowship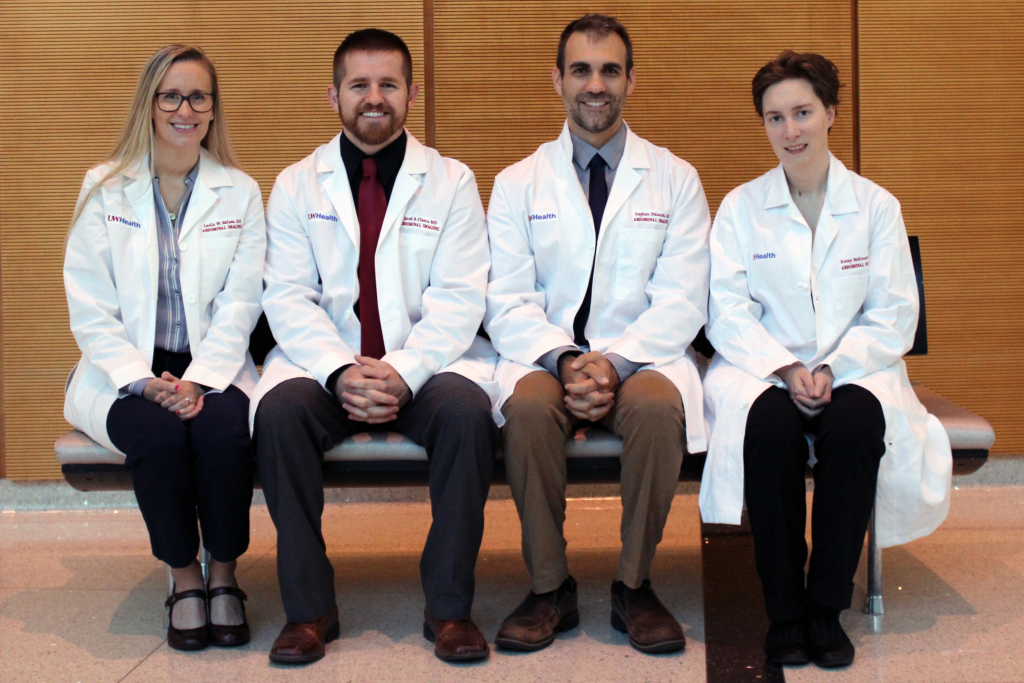 The goal of our program is to educate the next generation of leaders in abdominal radiology. By the time you leave Wisconsin, we want you to have an in-depth understanding of diseases of the abdomen, pelvis, and chest, and be an outstanding proceduralist. Our fellows easily transition into private or academic practices, and they are often chosen as leaders within their group. We accomplish these goals through a system of increasing independence where fellows take on increased responsibility throughout the course of the academic year. By the end of the program, fellows are functioning in a similar capacity as junior faculty including performing independent reading and procedures, alongside resident teaching and supervision. If you spend a year with us as a fellow, we want you to look back on the time as one of the best years that you have ever spent. Our faculty are highly collegial, and the only significant disagreements that we have are about sports teams (just try insulting Wisconsin sports to Dr. Lubner and you will see what I mean). The atmosphere around the program is one of teamwork, fairness, learning, laughter, and fun, and we know that you will leave with many warm memories and friendships. The fellowship year is divided into 2-week rotations in MRI, Ultrasound, and CT with complementary rotations in Intervention and VC/3D imaging. A full 4-week block of elective work (split into two sessions) enables fellows to custom-tailor a program to fit their interests. Dedicated academic time is built into the clinical schedule, and fellows are expected to participate in, complete, and present (funded and supported) research projects during the year.
Section Chief
Fellowship Coordinator
What Sets Us Apart
At Wisconsin you will learn about all aspects of abdominal radiology from a world-renowned faculty, but you will also learn CT colonography (CTC) from the world's pioneers in a high volume practice, ultrasound guided procedures (ultrasound is our primary metho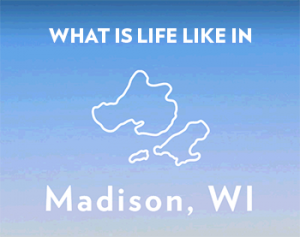 d to guide interventional procedures), tumor ablation using microwave and cryoablation, advanced MRI techniques, 3d CT, low-dose CT protocols, imaging of organ transplantation, and ultrasound scanning techniques in a dedicated scan lab. You will be given routine academic time and participate in both fellow-oriented and multidisciplinary conferences. We prepare you to be a leader in either a private or academic setting. Lastly, you will learn in a fun, stimulating environment in one of the nicest places in the world to live—Madison is routinely rated as one of the top cities in the United States.
Program Highlights
Our practice encompasses the full scope of academic abdominal radiology. There are few things (if any) that our peer groups do that we do not.
An outstanding group of attending faculty with national and international reputations and diverse interests within abdominal imaging. Subspecialty groups within our section include: CTC, lung biopsy, tumor ablation, and obstetrical ultrasound.
A stable faculty that is fully staffed.
Practice in University of Wisconsin Hospital and Clinics (UWHC). This is a state-of-the-art facility that is financially stable, and an institution that concentrates on providing premier tertiary/quaternary care in a humane and welcoming environment.
Our referring physicians are absolutely fantastic! You will have a chance to learn from hepatologists, gastroenterologists, nephrologists, surgeons (hepatobiliary, transplant, trauma, colorectal and general surgeons), radiation therapists, urologists, oncologists, internists, and obstetricians who are highly dedicated to their specialties but who are also committed to operating within a collegial and multidisciplinary environment. Our referring faculty are internationally known, yet are approachable, dedicated, and simply fun to be around.
UWHC is a huge solid-organ transplant center. If you can image in transplants, you can image anything! The transplant programs attract a wide range of both common and rare diseases to UWHC, and you will get to image all of them.
Fellows are a valued part of the team and are not used to simply grind out work because of vacancies in resident or attending coverage.
We are fully committed to fellow education:

Twice weekly educational programs designed exclusively for the fellows (didactic lectures, journal club, breakfast with the chief, "hands-on" practical workshops, etc.)
Dedicated ultrasound scan labs. By the time you leave Wisconsin you will be an excellent sonologist.
Dedicated, protected academic time, averaging one day per week.
A premium is placed on respectful interaction at all levels in our division and we have a lot of fun with our technologists, residents, nurses and fellows.
Access to a state-of-the-art animal laboratory, which can be used for fellow research projects.
An interventional and therapeutic ablation program virtually without parallel. You will learn tumor ablation, biopsy techniques (especially ultrasound guided), fluid aspiration and we even do most of the lung biopsies at UWHC. Ablation procedures are performed every Wednesday, lung biopsies (and other CT guided biopsies) are performed Mondays and Thursdays, and ultrasound guided intervention is performed every day. If you want to learn these techniques, this is the place for you.
An elective month that is truly elective. Previous fellows have chosen to obtain additional training in: cardiac MRI/CT, PET imaging, musculoskeletal MRI, vascular interventional, MR angiography, obstetrical ultrasound, echocardiography, mammography, Breast MRI (including MR compatible vacuum-assisted core biopsy), etc.
A CT colonography (CTC)/virtual colonoscopy (VC) program at the vanguard of a technology that is changing the way patients are screened for colorectal cancer. In fact, we were the first community in the United States with insurance coverage for VC, and we average around 1,000 VC cases per year. We have now screened over 9,000 patients.
A team spirit and esprit de corps that is actively cultivated, cherished, and infectious (see past fellow comments).
State-of-the art equipment, including a strategic alliance with GE Medical that provides the latest software and hardware advances for our use.
Madison is one of the best places to live on earth–vibrant, energized, and unbelievably beautiful. The most common story in town is that of the skeptical visitors who came and never left, followed by the children who leave, come back, and stay forever. It is hard to leave Madison for good.
The winters can certainly be cold at times, but are filled with opportunities for cross country skiing, snowshoeing, and skating, and the choice of restaurants, theaters, museums, music, and indoor activities is incredible for a city of this size.
Past Fellow Newsletters & Fellow Comments
This bi-annual newsletter got its start in August of 2008 and is published around August and December each year. If you are a past fellow and would like to contribute to stories or receive the newsletter please contact Kris Lee at KLee3@uwhealth.org .
Program Director/Section Chief: J. Louis Hinshaw, MD, FSAR
If you have questions for the Abdominal Imaging Fellowship please contact Fellowship Coordinator Kris Lee at KLee3@uwhealth.org