Program Information
Program Director: Scott B Perlman, MD, MS
Program Coordinator: Alan Farnsworth,  AFarnsworth@uwhealth.org
The goal of this fellowship is to provide complete training in all aspects of PET-CT/Molecular Imaging.
The Department of Radiology, Section of Nuclear Medicine offers a 12 month non-accredited fellowship in PET-CT/Molecular Imaging. The fellowship includes clinical work in PET-CT/molecular imaging, research and teaching. Clinical or basic research is required. Weekly conferences are combined with nuclear medicine and include a good case conference, weekly seminars and a weekly journal club. Formal classes at the University of Wisconsin in molecular imaging are also available. Fellows are appointed to the faculty as clinical instructors, and are expected to take Nuclear Medicine call. Fellows receive faculty benefits including paid vacation, a book fund and travel reimbursement. Academic time is given to support research and other academic activities.
Program Highlights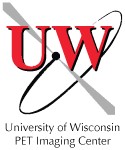 The PET Imaging Center has many active research programs. These include:
The use of PET/CT to evaluate early disease response in patients with a malignancy.
The use of PET/CT in patients with inflammatory bowel disease.
The use of PET/CT in patients with a dementia.
The investigation of a new tumor imaging (and possibly also therapeutic) agent, NM404 in patients with a known malignancy.