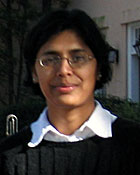 We are proud to share that Research Associate Veena Nair, who works with UW Radiology's Dr. Vivek Prabhakaran, has received an American Heart Association Postdoctoral Fellowship.
Veena Nair was awarded the 2-year project grant for her work, "Plasticity changes associated with stroke." The grant amounts to a total of approximately $95,000, covering salary/fringe and project support.
Dr. Prabhakaran, of the Neuroradiology section, will serve as Veena's mentor along with Dr. Dorothy Farrar Edwards, a Professor in the Departments of Kinesiology, Occupational Therapy, Neurology, and Medicine.