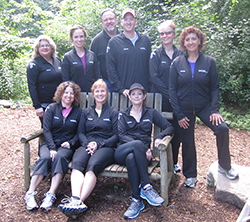 As I reflect on the contents of this volume of the Inside View, I am struck by the amount and diversity of great work by our faculty and staff and the corresponding well-deserved recognition that they are receiving.
In this version of our quarterly, you will see that our faculty has received numerous awards and well-deserved recognition for their contributions to our clinical mission (Hinshaw and Lubner), our research mission (Nagle, Cai, Prabhakaran, K. Lee, Strigel) and our educational mission (Salkowski and Lantta).
In addition, you will witness the impact of our faculty and staff's effort in research, for example, by hosting an international conference on lung imaging. We have also worked in outreach in clinical care and education, for example, by developing a partnership for enhancing ultrasound imaging in Nicaragua.
We should all be proud of the accomplishments of our colleagues. While these awards often recognize an individual's effort, if you speak with the faculty or staff who received the awards, they will credit their colleagues here at UW, and the teamwork necessary to achieve their success. We should all be proud of the accomplishments of our colleagues, and earnest to share the results of our effort with others.
This spring and summer, in response to a fundraiser to benefit the American Family Children's Hospital, our leadership team encouraged all of our employees to share their pride in the work that we do collectively here at UW, by sporting our logo on UW Health jackets and backpacks provided by the department and UW Health leadership.
This is a small gesture of gratitude for the dedication and teamwork for everyone in our department, and also an effort to encourage all of our employees wear their pride and spread the word about good things happening here. Radiology deeply appreciates the effort that our faculty and staff contribute to our department, and to UW Health overall.
–Tom Grist, M.D., FACR
Chair, Department of Radiology