At the end of last year, the American Family Children's Hospital (AFCH) inaugurated the Pediatric Imaging and Hybrid Cath/Angio Suite, which became operational in January 2014. The Department of Radiology is pleased to congratulate colleagues at AFCH for their ongoing efforts to provide superior care to Wisconsin's children.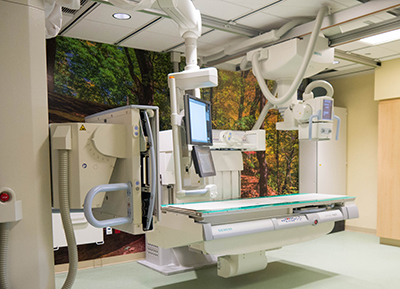 As part of the Sick Kids Can't Wait campaign, the new Pediatric Imaging Suite is for children who require imaging procedures, including MRI, CT, ultrasound, and fluoroscopy. Previously, children needing invasive cardiac, radiological, and endovascular procedures were performed in the adult hospital. The new space, however, was designed with children in mind, and the setting is dedicated solely to the care of pediatric patients.
The Imaging Suite features low-dose radiation imaging protocols developed by the Department of Radiology faculty, making a safer environment for the children seen there. This ultra-low dose imaging provides maximum protection for the child while allowing the physician the most precise guidance possible during the procedure. American Family Children's Hospital is one of the very first in the nation – and the only one in Wisconsin – to offer ultra-low dose radiation imaging in the hybrid interventional radiology/cath lab.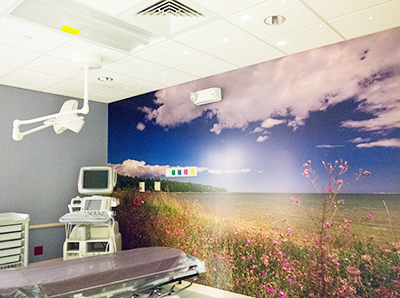 The Hybrid Cath/ Angio Suite is invaluable when it comes to treating pediatric patients with a variety of conditions, including aneurysms and strokes, congenital heart defects, tumors, and heart arrhythmias. The fluoroscopy/ radiography suite captures real-time moving images of a patient's internal organs, and can illuminate problems in the gastrointestinal and urinary tracts. Even the fluoroscopy table raises and lowers in a way best suited for kids.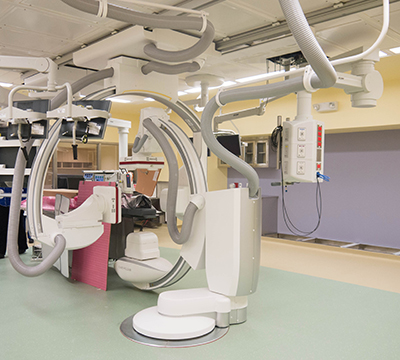 The MRI suite is equipped with a large-bore 3 Tesla MRI scanner with special software to reduce the time used to create an image, therefore potentially improving safety by reducing the need for sedation. The ultrasound room features a bright cluster of constellations represented by lights on the ceiling, so kids can look for their favorite star signs as they undergo this painless, non-invasive procedure.
Through it all, Child Life Specialists are on hand to help patients and families understand what their procedure might entail. They help children explore the medical equipment, learn details of their care, and focus their senses to guide them through procedures successfully, and with the smallest amount of anxiety.