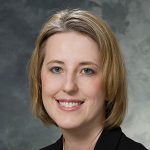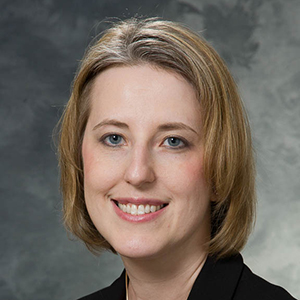 Amy Fowler, MD, PhD, Assistant Professor in the UW Department of Radiology Breast Imaging Section, had a manuscript published in the February 2019 issue of the Journal of Nuclear Medicine. The featured basic science article was titled "Sensitivity and Isoform Specificity of 18F-Fluorofuranylnorprogesterone for Measuring Progesterone Receptor Protein Response to Estradiol Challenge in Breast Cancer."
Dr. Fowler's research focuses on the clinical need to improve ways to detect and predict therapy response in patients with estrogen receptor positive cancer (ER-positive), which accounts for around 70% of breast cancer patients. The current treatment can be ineffective in some cases because it is not always sensitive to anti-estrogen treatment. Dr. Fowler has discovered that non-invasive detection of changes in PR expression using 18F-Fluorofuranylnorprogesterone (18F-FFNP) during an estradiol challenge could be an early indicator of the effectiveness of a specific hormone therapy. Previous studies were completed on ER-positive mouse models of breast cancer, which showed that measuring early decreases in progesterone receptor expression with the use of 18F-FFNP, and PET imaging after starting anti-estrogen therapy, could differentiate between endocrine sensitive and endocrine-resistant breast cancers.
Dr. Fowler and her colleagues used human breast cancer cells and tumor xenografts in order to test the ability of 18F-FFNP to detect any increases in progesterone receptor protein expression after estrogen treatment as a measure of functional endocrine sensitivity. The results indicated that 18F-FFNP uptake in tumors increased as early as 48 hours following estrogen treatment and correlates with an increase in progesterone receptor protein expression. They also found that 18F-FFNP could detect both the A and B isoforms of progesterone receptor proteins, which is expressed at variable levels in breast cancer.
"Validation of PR imaging as a biomarker of endocrine sensitivity in patients before and after estradiol challenge could provide new opportunities in the field of molecular imaging and nuclear medicine for breast cancer imaging," Dr. Fowler said. "Improved methods for testing endocrine sensitivity in patients could better inform decisions for optimal individualized ER-positive breast cancer therapy, potentially reducing morbidity and mortality." Congratulations on your great work, Dr. Fowler!