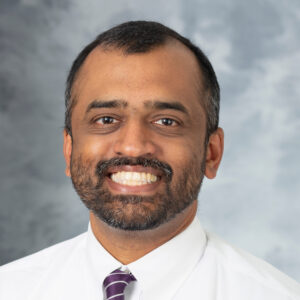 Anand Narayan, MD, PhD was recently selected as the Assistant Director of Diversity, Equity, and Inclusion at the Carbone Cancer Center. In this new role, his top priority is to enhance the diversity and representation in faculty and staff of the Center through utilizing resources from UW – Madison, UW Health, the School of Medicine and Public Health, and the Carbone Cancer Center.  
Dr. Narayan said, "As radiologists, we have imaging technologies that play central roles in early detection and diagnosis. One of the exciting aspects about my new role is that it aligns well with my existing efforts as Vice Chair to improve access to cancer screening (breast, lung, colorectal). I look forward to working across our Department to expand access to life saving imaging technologies." 
When he found he was named in this new role, he said, "I have tremendously enjoyed working with our Cancer Center leadership and staff. I know how incredibly committed they are to serving our patients, and I look forward to working with them to support our shared mission." 
Dr. Narayan is a national leader in the Diversity, Equity, and Inclusion space. He currently serves as the Vice Chair of Equity in the UW Department of Radiology and previously served on the Radiology Diversity and Inclusion Committee at Massachusetts General Hospital before joining UW. His research is focused on reducing breast cancer disparities.