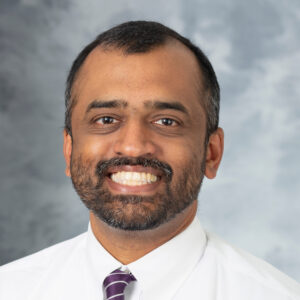 Anand Narayan, MD received multiple honors in the last month. First, he was selected as Vice Chair of the American College of Radiology's Patient and Family Outreach Committee. Dr. Narayan says, ""I'm honored to have the opportunity to promote collaborative relationships between health care providers, patients, and families. With Committee Chair Dr. Ian Weissman from the Milwaukee VA Center, I'm looking forward to bringing the lessons I learn from this committee back to Wisconsin." 
Secondly, he co-authored an article, "Racial and Ethnic Disparities in Lung Cancer Screening Eligibility," that was published is Radiology. In the article, he analyzes how revised guidelines for lung cancer screening eligibility enhance health disparities for racial minorities. 
Lastly, he is featured in this month's American College of Radiology (ACR) Bulletin, where he discusses how to reach out to patients for preventative screenings. Dr. Narayan serves as the Department of Radiology's Vice Chair of Equity, and a major focus of his position is to address healthcare disparities in underrepresented populations in Wisconsin. Dr. Narayan says, "My research interest is focused on reducing breast cancer disparities. I love and embrace the Wisconsin Idea, which allows for research on real-world issues, such as breast cancer disparities in Wisconsin. I want to focus my research on addressing these disparities." 
Congratulations, Dr. Narayan!