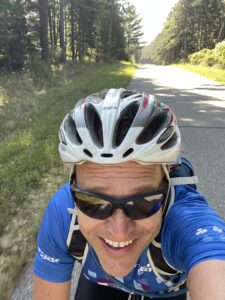 Bradley Maxfield, MD has participated in the Trek 100 charity bike race every year since 2009. He was hoping for the 2021 race to be back to normal – the start line filled with other participants, his UW Health team riding together, the excitement and camaraderie of an in-person race. Unfortunately, with the recent rise in COVID-19 infections due to the delta variant, the Trek 100 remain virtual for another year with the tagline "Ride for Hope – Ride from Home." 
"Over the next few days, I attempted to rally the morale of my team members online and encourage them to continue fundraising. Non-profits and charities have been disproportionately affected by the pandemic. Economic hardship has tightened available donations, and infection control efforts restrict the most common fundraiser formats," says Dr. Maxfield. 
Nevertheless, Dr. Maxfield rode the 105 miles, leaving from Waunakee, riding north through Portage, up to the south shore of Buffalo Lake, to Montello WI, then returning south. He completed the virtual event the day after the scheduled Trek 100 – on his birthday – and enjoyed "sun, solitude, and scenery." However, the Trek 100 means much more to Dr. Maxfield than a bike race. 
Pediatric cancer is his main research interest. He adds, "The Trek 100 benefits the MACC fund. MACC fund is a regional Wisconsin charity which exclusively funds pediatric oncology research in Wisconsin. The main grants are to researchers at Children's Hospital of Wisconsin, The Blood Center of SE WI, and The Carbone Cancer Center at UW. This is an ideal charity for me, because it directly funds research, is exclusively pediatric focused, is exclusively Wisconsin, and impacts AFCH and my imaging patients directly." 
Before 2020 and 2021's virtual events, the UW Health team he organizes had 50 members and raised nearly $20,000. He's hoping for a return to normal in 2022. If you are interested in joining the UW Health team in 2022, contact Bradley Maxfield. Click here if you would like to donate to the MACC Fund.  
Congratulations, Dr. Maxfield!