The emerging field of machine learning (ML), a branch of artificial intelligence (AI) and computer science, has exciting potential applications to healthcare and medicine. In medical imaging, specifically, ML tools may accelerate productivity and improve diagnostic accuracy. 
However, implementation is a major challenge to the field. Pallavi Tiwari, PhD, who leads UW-Madison's Machine Learning for Medical Learning (ML4MI) Initiative, believes that interdisciplinary collaboration will be the key for translating algorithmic innovations into effective clinical tools. 
"AI in Imaging and Medicine: Breaking Silos, Building Bridges," a symposium on October 6 – organized by the ML4MI Initiative and the Data Science Institute (DSI) – brought researchers from across campus together for cross-disciplinary discussion to encourage collaboration.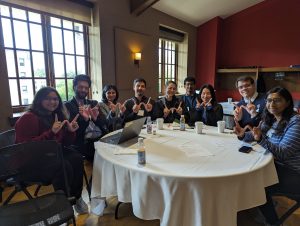 "We have all kinds of expertise on campus that we can leverage," says Dr. Tiwari. "As researchers, we tend to – and I'm guilty of this, too – focus on our own silos. There's so much expertise beyond our own departments and our own fields that can be leveraged." 
"The keynote speaker, Kyunghyun Cho, PhD, is someone who knows the algorithmic side of things but is focused on translational problems," says Dr. Tiwari. Dr. Cho, who is an associate professor of computer science and data science at New York University, gave a talk on his work to develop clinical predictive models. 
While the symposium included some talks, it was designed to be interactive. The day also featured small group discussions and a "speed collaborating" session – like speed dating for researchers. 
"We had 130 registrations from over 30 different departments and programs," says Dr. Tiwari. "Clearly, there is a lot of excitement and enthusiasm surrounding the use of AI in medicine and healthcare at UW." 
This university-wide event takes a step forward in establishing a collaborative community of ML researchers on campus. 
"We have such exceptional faculty on campus working on AI and machine learning," says Dr. Tiwari. "When we have a platform to come together, we can build on each other's strengths."