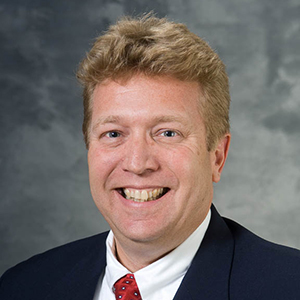 After 13 years at UW–Madison, Cristopher Meyer, MD, a Professor in the Thoracic Imaging Section, is retiring. In each of Dr. Meyer's many roles – including physician, professor, researcher, reviewer, mentor, colleague, and more – his commitment to excellence is evident. He will be sorely missed for his expertise, his clinical skill, and his humor. 
Dr. Meyer is known nationally as a leader in thoracic radiology, and served as President of the Society of Thoracic Radiology from 2018 to 2019. He has authored or co-authored over 100 articles, book chapters, and abstracts, and has lectured nationally on topics related to occupational lung disease. In 2022, he received STR's President's Award for his research of burnout in cardiothoracic radiologists. He earned the same prestigious award in 2013 for his contributions to revising the Society's by-laws. 
His reputation as a clinician is equally glowing. 
"Dr. Meyer's dedication to clinical excellence has helped shape the high-quality service we provide to our patients and clinical colleagues, and his passion for teaching inspires us all," says Jeffrey Kanne, MD, the Chief of the Thoracic Imaging Section. "His ability to make us laugh with anecdotes about cooking, fishing, his time in the Army, or life in general always lightens up the day." 
In addition to his roles as a physician, educator, and researcher, Dr. Meyer is the Chair of the UW Medical Foundation (UWMF) Finance Committee. He has also been an active and conscientious member of the Compensation Development Committee (CDC). 
"He leaves the legacy of Chairing the CDC during the development of the physician compensation plan guidelines, for which he deserves a merit badge for inclusivity by facilitating this complex and important effort in a way that encapsulated priorities from colleagues across the institution," says Kelsie Doty, the Vice President at UW Health.  
We thank Dr. Meyer for his committed service, and wish him the best in his retirement.