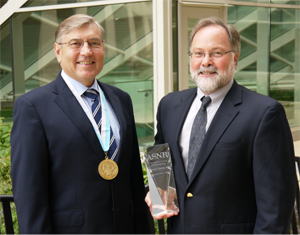 Drs. Rowley, Turski, (pictured) and Sackett are three of the most distinguished names to serve in our Neuroradiology Section, and they continue to earn praise from societies and academic institutions alike.
Professor Howard Rowley, MD, assumed the Presidency of the American Society of Neuroradiology (ASNR) at their 2016 annual meeting in late May. Dr. Rowley served as Chief of UW Radiology's Neuroradiology Section from 2000-2012, and has received multiple awards for outstanding presentations and lectures. RSNA 2013 attendees might remember when he filled in for a presenter who had become ill, improvising an exceptional lecture based on slides he was seeing for the first time. This passion for education and leadership will serve Dr. Rowley well in his role as ASNR President, and we look forward to his year-long tenure.
Professor Patrick Turski, MD, FACR, was awarded the 2016 ASNR Gold Medal Award. His ASNR work spans many decades including serving as President of the ASNR in 2002, as Chair of the Health Policy Committee, and as a member on multiple ASNR and ASNR Foundation committees.
Outside of the ASNR, Dr. Turski has maintained a focus on MR vascular imaging research for over 25 years, developing new technology and applying it in clinical settings. He continues to pursue innovation and is currently co-principal investigator for an National Institutes of Health (NIH) grant which proposes to integrate arterial wall imaging with 4D-Flow MRI. Some of Dr. Turski's past innovations include contributions to the development of time resolved contrast enhanced MRA (TRICKS) and methods to accelerate MRA acquisition and reconstruction.
This illustrious career has resulted in hundreds of peer-reviewed publications, dozens of chapters in neuroradiology textbooks, and two patents. In 1991 he co-authored a monograph entitled "Vascular Magnetic Resonance Imaging" and a textbook entitled "Clinical Magnetic Resonance Angiography." Dr. Turski was particularly honored to deliver the first T. Hans Newton Memorial lecture in 2002 at the University of California, San Francisco, where he completed his neuroradiology fellowship.
Finally, former Department of Radiology Chair Joseph Sackett, MD, FACR, was honored with the Tulane Medical Alumni Association's Lifetime Achievement Award. Dr. Sackett, a 1966 graduate of Tulane Medical School, received the award at his 50-year class reunion. He is best known for playing a pivotal role in the development of digital subtraction angiography, and for his 15 years of service as Chair of UW Radiology.