The Departments of Human Oncology and Radiology recently unveiled a new MRI scanner in the radiation oncology clinic at University Hospital. This machine will enhance patient care and provide opportunities for multidisciplinary collaboration aimed at advancing MRI use in radiation oncology.
The location of this GE Healthcare 1.5T wide-bore MRI scanner within the radiation oncology clinic is particularly convenient for cancer patients. As needed, they can obtain CT and MRI imaging in a single location. The new scanner provides high-precision MR imaging for diagnosis and radiation treatment planning with superb soft-tissue contrast. In addition, MRI provides the ability to measure physiological motion, such as breathing and cardiac motion. The scanner's size and suite of associated radiation therapy tools will enable simulation planning for patients in their precise radiation treatment position.
"What that means for patients is that we have more accurate alignment between different datasets we use to devise cancer treatment plans," says Dr. Carri Glide-Hurst, DHO director of radiation oncology physics.
The new MRI scanner will support a variety of radiation treatment methods. One priority is to obtain the most up-to-date information of a patient's disease state prior to stereotactic radiosurgery (SRS)—a form of high-dose of radiation treatment for primary brain tumors, brain metastases, and other intracranial conditions.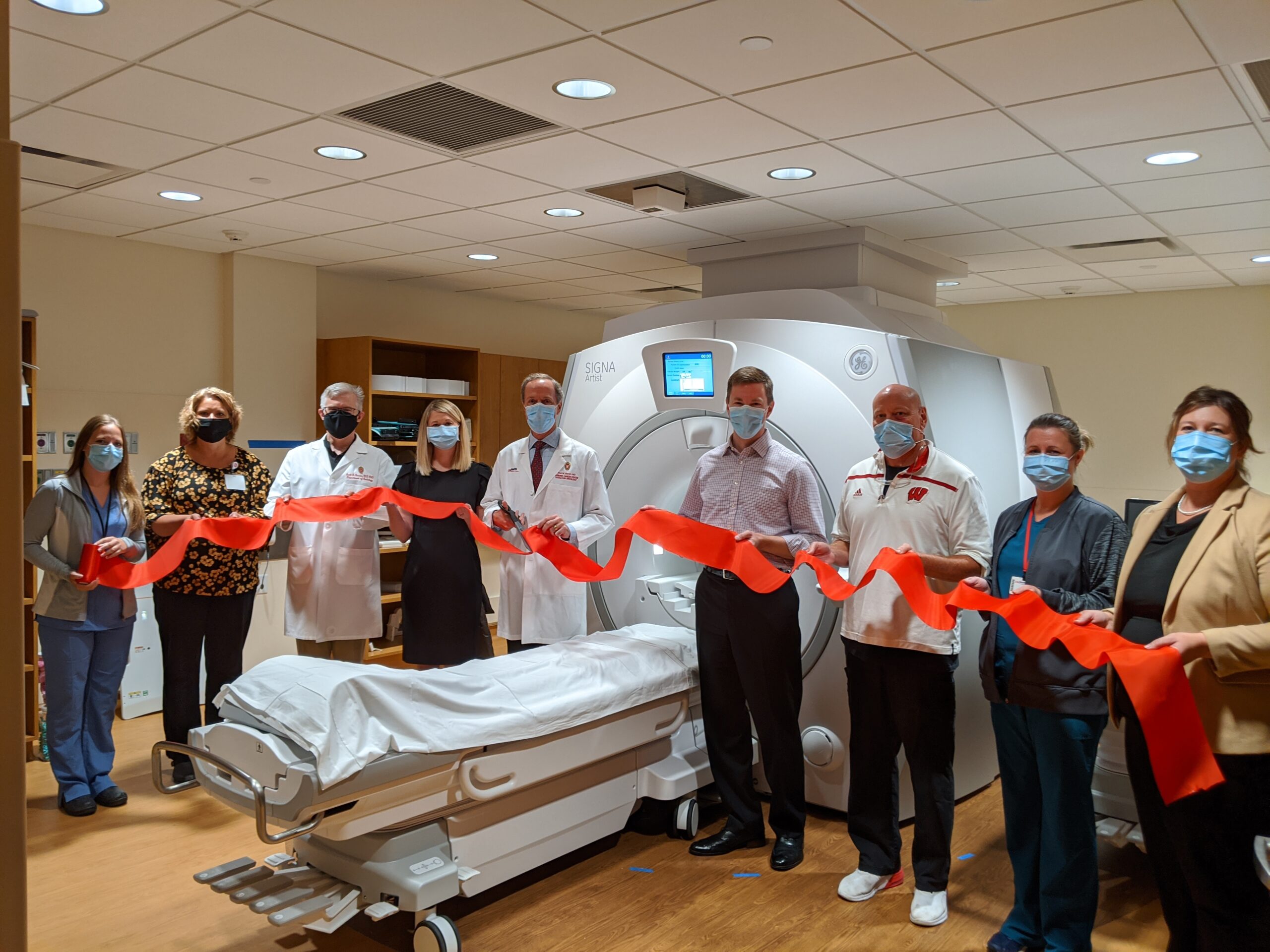 Another high priority for the MRI scanner is to support gynecological brachytherapy, a type of radiation therapy that delivers radiation internally by placing a radiation source in or near a tumor through the use of applicators that are placed under anesthesia.
"Additional MRI time for brachytherapy patients will enable optimal treatment planning and image-guided adaptive brachytherapy, which can result in improved tumor control and decreased toxicity," says Dr. Kristin Bradley, a Department of Human Oncology (DHO) professor who specializes in gynecological brachytherapy. "Having this scanner housed within the clinic minimizes travel distance and time for patients, which is important for patients receiving general anesthesia."
In the future, the new scanner may enable high-quality imaging in the treatment position for selected breast cancer patients. "This could help us more precisely identify the lumpectomy cavity, visualize the brachial plexus, or assess residual lymph nodes after neoadjuvant chemotherapy," says Dr. Bethany Anderson, a DHO associate professor who specializes in treating breast cancer.
The new MRI will also be valuable in radiation planning for cancers where soft tissue contrast is important, such as in the abdomen or pelvis.
Through a comprehensive research agreement with GE Healthcare researchers from DHO and Radiology will work with GE engineers to develop software and hardware technologies to advance the use MRI in radiation therapy. For example, this partnership could open up new imaging opportunities to measure the effects of cancer treatment on patients.
"MRI provides great soft-tissue contrast and ways of assessing tumor response to therapy. With a state-of-the-art MRI scanner it's possible to develop quantitative response biomarkers," says Dr. Thomas Grist, Chair of the Department of Radiology.
"The use of MRI in radiation treatment planning could also help identify treatment effects on radiosensitive tissues," says Dr. Scott Reeder, professor and chief of MRI in the Department of Radiology. Several collaborative projects will explore this idea.
"I'm excited by the opportunity to collaborate with an engaged, dynamic, and talented group of health care providers in radiation oncology and to contribute to helping patients in new ways through our combined expertise," Dr. Reeder says.
Dr. Grist adds: "We have amazing expertise in diagnostic imaging and radiation oncology, great support from Medical Physics and GE Healthcare all aimed at improving the treatment of cancer in this effort. By having this scanner physically located in the department where radiation therapy is delivered, we will accelerate our ability to translate more than four decades of MRI research and innovation into clinical practice to improve the health of our patients."
-Rob Kelly