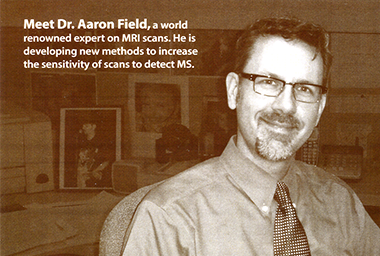 On September 26, Dr. Aaron Field gave a talk at "On the Move Madison," a benefit to support multiple sclerosis (MS) research. The event included enjoyable activities and gourmet food in a fun setting, yet also touched on the importance of providing ongoing research opportunities for this serious, yet treatable, disease.
Approximately 100 attendees gathered at the Madison Children's Museum for a night of food provided by locally acclaimed restaurants, including the Cooper's Tavern, Merchant, Capitol Chop House, and Underground Food Collective. A silent auction raised funds for the National Multiple Sclerosis Society's (NMSS) Wisconsin Chapter, and UW Radiology-based hard rock group Fringe Field, with Dr. Aaron Field as their frontman, entertained the crowd.
Dr. Field's formal presentation provided an update on current MS imaging research in the UW Department of Radiology, especially stressing the financial pressures that scientists often face. "I want to make folks aware of how expensive medical research has become, and how poorly funded it is relative to what is needed," Dr. Field said.
MS is caused by demyelination of the central nervous system, which can cause many symptoms, including poor coordination, paralysis, and blindness. More than 2.3 million people live with MS worldwide, according to the NMSS. Yet although the disease can cause decreased mobility and functioning, new scientific research is making it ever more manageable. "[It's] incredibly helpful every time [someone] volunteers their time and money to fundraising events like On the Move Madison," Dr. Field said.
It's important to Dr. Field that those suffering from MS are able to hear about new advancements directly and quickly. "I know that patients and their families are hungry for accurate, up-to-date information on progress in MS research and there is no better way for them to get it than these opportunities to interact with those of us who are driving the research," Dr. Field said.
And, according to the NMSS, continued focus on research initiatives like those of Dr. Field may one day end MS forever.