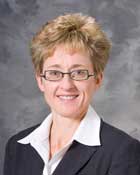 We are delighted to share that the UW Department of Radiology's Dr. Donna Blankenbaker has received an award from the Society of Skeletal Radiology-Radiologic Society of North America!
Dr. Blankenbaker was presented the SSR-RSNA Paper-Presentation award for her work, "MR Arthrographic Appearance of the Post Operative Acetabular Labrum." Her paper will be presented at this year's RSNA conference in Chicago.
The Department of Radiology welcomed Dr. Blankenbaker to its faculty in 2001. Today, she is a Professor of Radiology, the Medical Director of Outpatient Radiology and Co-director of Medical Student Radiology Education. Her primary research interests include hip imaging and sports medicine injuries.
Please join us in congratulating Dr. Blankenbaker!