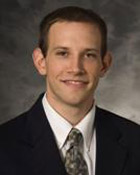 UW Radiology's Chris Brace, Ph.D., led a team of undergraduates from the Department of Biomedical Engineering to a second place win at this year's Collegiate Inventors Competition, with a project developed through the Department of Biomedical Engineering's undergraduate design curriculum.
Students Patrick Cassidy, Sean Heyrman, Alex Johnson, and Anthony Sprangers' winning invention,
BarriereASAP, is a special, thermoreversible barrier used to protect healthy tissue while nearby cancer tissue is being removed. This same invention was awarded 3rd place at the 2011 BMEStart national
competition.
The annual Collegiate Inventors Competition, which was founded by the non-profit organization Invent Now, was held on November 14. Participants presented to a panel of judges comprised of Inductees of the National Inventors Hall of Fame and representatives from the event's sponsors, the Abbott Fund, the Ewing Marion Kauffman Foundation, and the United States Patent and Trademark Office.
Invent Now began the competition 21 years ago in order to promote innovation, recognize young inventors and scientists, and reward students for addressing the problems of today's world. The competition attracts creative and ingenious thinkers from science, technology, engineering, and mathematics backgrounds.
Brace is an Assistant Professor in the Departments of Radiology and Biomedical Engineering.
Congratulations to all involved. We can't wait to see what your future holds.