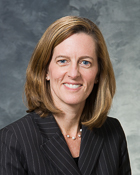 Elizabeth Burnside, M.D., MPH, M.S., continues to pursue advances in women's health, this time with her appointment as project director of an NIH-funded grant program aimed at faculty who conduct women's health research.
The program, called Building Interdisciplinary Research Careers in Women's Health (BIRCWH), was awarded to the University of Wisconsin in 2007 under the sponsorship of the UW Center for Women's Health Research. The goals of the program include increasing the skills of women's health investigators through mentored research and encouraging interdisciplinary research methodology.
These ambitions are accomplished by appointing BIRWCH scholars for two to five years per appointment. These appointees come from a wide range of academic disciplines, including behavioral science, surgical oncology, and pediatrics, supporting cross-departmental collaboration.
Dr. Burnside is uniquely qualified to lead the program, having served on several training grants over the past five years, granting her a distinguished track record of mentoring clinician scientists and trainees. In addition to her mentoring responsibilities, Dr. Burnside will continue to conduct her own research into improving breast screening through imaging informatics.
Dr. Burnside's appointment coincides with the launch of the new BIRCWH webpage, which contains information about program leaders, current scholars, and the application process.