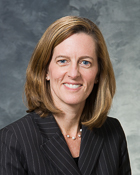 The UWSMPH Department of Radiology is pleased to share that Dr. Elizabeth Burnside has received a new R-01 grant from the U.S. National Library of Medicine.
The grant, worth $1,289,580, goes towards Dr. Burnside's project, "Integrating Machine Learning and Physician Expertise for Breast Cancer Diagnosis." The U.S. National Library of Medicine, which is affiliated with the National Institutes of Health, supports research grants that advance the science of biomedical informatics.
The project ranked in the 9th percentile and represents an effort to join physicians and computer scientists to create decision support tools designed to improve the diagnosis of breast cancer by combining machine learned rules and physician expertise in a probabilistic graphical model.
Furthermore, the proposal addresses the substantial information overload and uncertainty that all physicians face in clinical practice, often resulting in errors and overutilization.
"The algorithms that we will develop will leverage large data repositories, like we have in Breast Imaging at UW, to help physicians make evidence-based decisions for interventional procedures like breast biopsy," said Dr. Burnside.
"Specifically, while we test the hypothesis that these algorithms can improve care, we will simultaneously use these algorithms to discover variables that are highly predictive of breast core biopsy insufficiency." This research will develop a system that provides individualized risk estimations for biopsy undersampling so future healthcare teams can engage in shared decision-making with patients as they decide whether excisional biopsy is necessary.