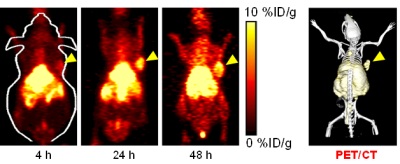 Research from Dr. Weibo Cai's Molecular Imaging and Nanotechnology Laboratory was featured in the 2013 Prostate Cancer Research Highlights by the Department of Defense . This work was funded by a FY10 PCRP Idea Development Award – New Investigator Option, with a total amount of approximately $650,000 over a 3 year period.
The grant was focused on the development of a platform for both non-invasive positron emission tomography (PET) imaging and molecularly targeted therapy, built around the insulin-like growth factor 1 receptor (IGF1R).
The goal is that the new agents developed in the Cai Group would allow for initial screening of prostate cancer patients to identify those that might best benefit from IGF1R-based treatment, and subsequently treat those individuals with the IGF1R-targeted therapeutic agent by simply substituting the imaging isotope with a therapeutic isotope. This "scout-and-treat" strategy is expected to give a significantly higher response rate for prostate cancer patients than conventional cancer therapies since the agent used to image the cancer is only slightly different from that used to treat it.
UW Radiology would like to congratulate the Cai Group on this prestigious national recognition.