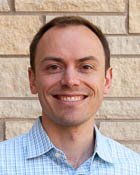 UW Radiology is pleased to announce that Dr. George Carberry was selected to receive the 2013 Society of Interventional Radiology (SIR) Annual Scientific Meeting Resident-in-Training Travel Scholarship.
This scholarship program is open to first- and second-year radiology residents and gives recipients the opportunity to learn about interventional radiology early on in their medical careers. The program provides selected individuals with complimentary registration and reimbursement for travel expenses for the SIR Annual Meeting which will be in New Orleans this April.
Dr. Carberry is a second year diagnostic radiology resident in the Department of Radiology. He earned his medical degree from the University of Toledo in 2010.