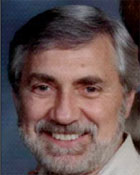 The National Academy of Engineering (NAE) has named Charles Mistretta, Ph.d., Professor (Tenure) of Imaging Sciences, to its 2014 class of members.
Mistretta, the J.R. Cameron Professor of Medical Physics, Radiology and Biomedical Engineering at UW-Madison, is among 67 new members and 11 foreign associates elected to the NAE.
Election to the NAE is among the highest professional distinctions accorded to an engineer. NAE recognized Mistretta for contributions to the development and application of angiographic methods in X-ray and magnetic resonance imaging.
Mistretta earned his Ph.D. in high-energy physics from Harvard University in 1968. His pioneering research in time-resolved angiography has led to significant improvements in the effectiveness, speed and image quality of such medical imaging techniques as magnetic resonance imaging, X-ray computed tomography, and interventional X-ray imaging. Mistretta holds 43 U.S. patents, is a fellow of the American Association of Physicists in Medicine and of the American Institute for Medical and Biological Engineering.