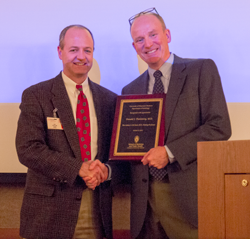 On October 17, Dr. Donald Flemming, M.D., became the 2nd speaker of the Arthur A. DeSmet Visiting Professorship lecture series with his presentation at Grand Rounds.
The series was instated to honor Dr. DeSmet, a foremost authority on knee imaging, with educational lectures on musculoskeletal (MSK) imaging aimed at bringing top-tier researchers to share knowledge at UW.
Dr. Flemming did just this, with an illuminating lecture on errors in orthopedic oncologic radiology. Using several case studies from his work at Penn State's Hershey Medical Center, he addressed the differences between several different bone lesions and the features that differentiate the benign and malignant versions of these tumors.
Dr. Flemming examined images in-depth, and cautioned against performing biopsies outside a medical center. He also encouraged UW Radiologists to examine each case with a fresh perspective, and avoid automatically categorizing the tumors into classifications if they believed they needed to study them further to reach a diagnosis. He also advocated for open channels of communication with other members of the diagnostic team.
Dr. Flemming noted that he was pleased to give the Grand Rounds lecture since he had a strong connection with UW, despite never having set foot in the state previously. He has previously worked with UW MSK specialists in professional organizations.
"It's a small specialization, so we're a little like a family," Dr. Flemming said. He praised the UW for its research in MSK, and the Department of Radiology was equally glad to have the benefit of Dr. Flemming's expertise.