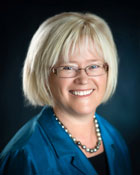 Clinical Professor Margaret Fagerholm, M.D., has been selected as a Champion in Women's Health by the Wisconsin Women's Health Foundation.
The Foundation honors individuals who have devoted themselves and their professional career to improving the quality of life for women and families. Past champions have been instrumental in raising awareness about women's health issues, and have positively impacted the care that women receive in the state of Wisconsin.
A graduate of Mayo Medical School, Dr. Fagerholm has been with UW since her residency, and is currently serving in the Community Radiology Division. She is also a member of the UW health Breast Center, which performs over 35,000 breast exams each year.
She will be honored at an awards ceremony on May 9 at the Madison Concourse Hotel as part of the Wisconsin Women's Health Foundation Spring Gala.
Dr. Fagerholm is a leader in breast imaging in Wisconsin, and we congratulate her on her achievement.