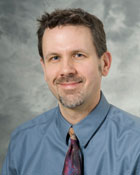 Dr. Aaron Field of the UWSMPH Department of Radiology gave a special radio interview on his multiple sclerosis (MS) research on Madison WTDY (1670 AM).
The interview, which aired Thursday, August 25 at 5 p.m., was led by WTDY's Amy Barrilleaux and covered Dr. Field's new study centering on the chronic cerebro-spinal venous insufficiency theory, or CCSVI.
CCSVI was developed by Italian researcher Paolo Zamboni in 2008 and is an alternate explanation for the cause of MS. It hypothesizes that restricted blood flow in the veins draining the central nervous system cause a reflux of blood into the brain which triggers the symptoms of MS.
In his interview, Dr. Field spoke about beginning his two-year study on CCSVI. In his research, Dr. Field will be using ultrasound and MRI technology to generate images and take measurement of blood flow in the neck veins of people with and without MS.
If results show consistency with Zamboni's CCSVI theory, the possibility of using veinoplasty, which opens up restricted veins, may become a viable treatment option for MS patients.
"I am excited just because it would be such a tremendous boon to therapy for MS patients," said Dr. Field in his interview. "They've been waiting a long time for meaningful therapy."
Listen to the full interview