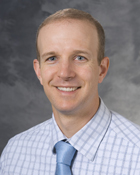 Congratulations are in order for UW Radiologist Dr. Christopher François who has recently been appointed to both the Expert Panel on Vascular Imaging and the E-Learning Subcommittee at the American College of Radiology (ACR).
The ACR Expert Panel on Vascular Imaging is a specific panel focused on revising the criteria and guidelines for imaging vascular diseases. Currently, the panel is in the process of updating and revising the appropriateness criteria and guidelines published by the ACR.
The ACR E-Learning Subcommittee is a brand new subcommittee which is committed to developing new educational programs specifically designed for e-learning.
Dr. François joined the UW Department of Radiology's Cardiovascular Imaging and Chest Imaging Sections in 2007.