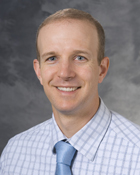 UW Radiology's Dr. Chris François of the Cardiovascular and Chest Imaging sections has been awarded, along with fellow investigators, a grant totaling $2,507,192.
The grant project, titled "Right Ventricular-Pulmonary Vascular Interactions in Pulmonary Hypertension," is a collaborative study with Northwestern University. The principal investigator of the project is Naomi C. Chesler, Ph.D., of UW Biomedical Engineering, while Dr. François is serving as one of the senior personnel. The remaining UW faculty involved with the study includes Jens C. Eickhoff, Ph.D. from the Department of Biostatistics, Heidi Kellihan, DVM from the School of Veterinary Medicine, and James Runo, M.D. from the Department of Medicine.
The National Institutes of Health's Heart, Lung, and Blood Institute awarded the grant, which is active until June 20, 2015. There is also an outgoing sub-award with Northwestern University.