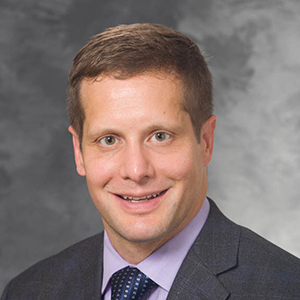 Greg Avey, MD, UWSMPH Department of Radiology faculty member in the Neuroradiology Section, and Director of Head and Neck Imaging, was a finalist in a crowded field of nominees to receive the annual The White Coat Investor Financial Educator of the Year award. Dr. Avey was nominated for this award by UWSMPH medical student Chris Rufus Sweeney, who began a quest for teaching financial literacy at the medical school and was introduced to Dr. Avey who was already teaching radiology residents and fellows about personal finance.
Dr. Avey had already recognized the impact student debt has on graduating medical students, and wanted to share his wisdom, knowledge and experience with his students to help them make intelligent choices to rebound from debt. "The median debt for medical students has increased over time to now over $200,000," Dr. Avey said. "But at the same time, there has been a proliferation loan repayment and forgiveness options. It gets a bit overwhelming," Dr. Avey said. "Plus, other financial planning needs, such as budgeting and insurance, also are important to consider at this transition time."
The result of Dr. Avey's and Chris Sweeney's efforts was the development of new SMPH curriculum to help fourth year medical students to learn key concepts around budgeting, investing, insurance, and negotiation through independent and group learning experiences. The new course was formatted to allow students to better analyze financial decisions and understand the impact of these decisions on both their current and future financial health and broader personal wellness.
Dr. Avey took on the role to teach many of the classes, in addition to his other duties. "I wanted to help fourth-year medical students learn more about personal finance to navigate the critical juncture between accumulating debt and earning an income, so they could better understand how to allocate their precious resident dollars," he said. Dr. Avey was one of eleven nominees for the White Coat Investor Financial Educator of the Year award. "This honor was a great surprise," Dr. Avey said. "It is gratifying to see so many talented people taking up this important topic."