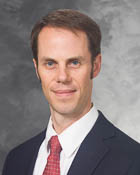 Jeffrey Kanne, M.D., Chief of Thoracic Imaging and Vice Chair for Quality and Safety, is a recipient of
the 2013 Radiological Society of North America (RSNA) Honored Educator Award. According to the RSNA, the achievement recognizes, "dedication to furthering the profession of radiology by delivering high-quality educational content for the RSNA."
The award recognizes members of the society who have contributed an array of educational resources in the past calendar year. These educational resources include: serving as faculty at one or more RSNA educational meetings, authoring an educational exhibit or online education materials, and donating a refresher course and writing CME questions for online learning.
This is the 2nd year in a row Dr. Kanne has received the Honored Educator Award. The RSNA thanks Dr. Kanne for furthering the professional development of fellow radiologists and imaging scientists.