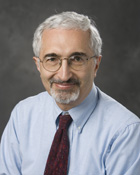 Frederick Kelcz, M.D., Ph.D., Associate Professor (Tenure) and Chief of Abdominal MRI, has developed the "Introduction to MRI for Ultrasound Technicians" course, and was invited to present before the Society of Diagnostic Medical Sonography (SDMS) at their annual fall conference.
Ultrasound technologists are often asked to track down abnormalities detected by other imaging modalities such as computed tomography (CT) or magnetic resonance imaging (MRI) because ultrasound is superior to other imaging methods when providing guidance for many interventional procedures. While many ultrasound technologists are comfortable utilizing CT, some ultrasound techs struggle with MRI due to the complexity and sheer number of sequences associated with even a routine MRI.
Dr. Kelcz has been instructing ultrasound technologists on the finer points of MRI for several years, but it wasn't until recently that Dr. Kelcz made the decision to share the course with other institutions. "The MRI for Ultrasound Technologists course has evolved to the point that we hope this might be valuable to other technologists who will go back to their home institutions and ask their own radiologists for a similar experience," said Kelcz.
The 2014 SDMS Annual Fall Conference will be held in Louisville, Kentucky, and will take place September 25-28.