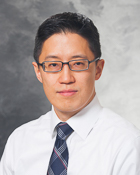 UWHC Department of Radiology's Dr. Kenneth Lee recently attended the Society of Skeletal Radiology (SSR) Annual Meeting where he received two prestigious awards!
The SSR awarded Lee the first ever Patrick T. Liu Innovation in Research Award for his SSR paper, "Treatment of Chronic Lateral Epicondylosis Using Hyperosmolar Dextrose Solution: Can Acoustoelastography Monitor Tissue Healing?" He also received the highly esteemed Society of Skeletal Radiology Young Investigator Travel Award.
The SSR is an internationally recognized organization composed of nearly 800 accomplished musculoskeletal radiologists from the United States, Canada, Europe, and Asia. Each year it holds an exclusive meeting for its members. This year, the meeting was held March 13-March 16, 2011, in Scottsdale, Arizona.
Congrats, Dr. Lee! We are so proud of you!