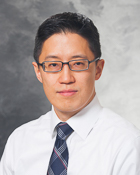 The Department of Radiology is pleased to announce the election of Dr. Ken Lee from the Musculoskeletal Imaging and Intervention Section to the Board of Directors for the American Institute of Ultrasound in Medicine (AIUM). This three-year position will begin after the AIUM annual meeting in New York City this April.
AIUM was established in 1952 as a multidisciplinary organization for the advancement of ultrasound in medicine. The association has achieved these goals through educational, scientific, and professional activities, and it brings together physicians, sonographers, scientists, engineers, other healthcare providers and manufacturers.
Congratulations on this important recognition, Dr. Lee!