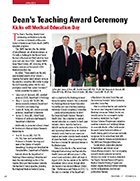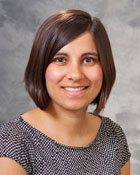 The University of Wisconsin School of Medicine and Public Health Dean's Teaching Awards are among the highest honors a UW instructor can receive, signifying outstanding contributions to student education in medical school programs. Only four winners are selected each year from more than 1500 faculty across the School of Medicine and Public Health.
This year, UW Radiology is represented by Tabassum Kennedy, M.D., who received one of the Dean's Teaching Awards as part of Medical Education Day. Dr. Kennedy is heavily involved in education, serving as the Neuroradiology Fellowship Director in addition to her usual teaching duties.
Dr. Kennedy also designed and created the content for the Neuroradiology Learning Module, an online resource for 3rd year medical students as they complete their neuroscience rotation. Furthermore, she is the director of the upcoming 7th Annual
Midwest Head and Neck Imaging Meeting, to be held in March 2016. The meeting moves location every year,
and was last held in Madison in 2011. Geared toward residents, fellows, and junior faculty, the meeting
promises to highlight cutting edge research and educate on a variety of imaging topics.
Dr. Kennedy follows Lonie Salkowski, M.D. as a recipient of the Dean's Teaching Award. Dr. Salkowski was
honored in 2012 for her work in computer-based radiologic anatomy curriculum.