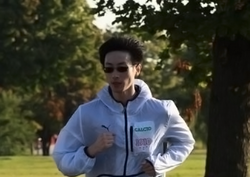 On October 20, Dr. Jarrett Kuo, an Abdominal Imaging Fellow, completed the Detroit Free Press International Marathon.
Dr. Kuo finished the marathon with a time of 3:50:56, averaging 8.48 minutes to run a mile.
Dr. Kuo reportedly selects his marathons based on the "coolness factor," or uniqueness of the medal he will get upon finishing. The medal for the Detroit Free Press Marathon features a Detroit cityscape with skyscrapers, a vintage Ford automobile, and a vinyl record and microphone.
According to Abdominal Fellowship Coordinator Kristin Hubers, Dr. Kuo says in the future, he plans to complete the Surf City USA Marathon on Super Bowl Sunday in Huntington Beach, California, because the finisher's medal is shaped like a surfboard.
Professionally, Dr. Kuo says he is enjoying Madison, is looking forward to perfecting his MRI reading skills, and is very excited about the procedures being done at UW.
Photo courtesy of Detroit Free Press and FinisherPix