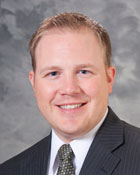 Congratulations to Dr. Jason Pinchot who has been selected to attend the 4th Annual 2011 American Roentgen Ray Society (ARRS) Clinician Educator Development Program! Dr. Pinchot was selected for this exciting opportunity after being chosen as the department nominee in November 2010.
The Clinician Educator Development Program is hosted by ARRS to help junior faculty develop careers as clinician educators. This unique program consists of eight workshops and two half-day programs. It is designed for aspiring radiology educators who are interested in learning modern teaching skills and technology as well as career development strategies. Dr. Pinchot is one of 25 selected attendees and will also receive an educational grant!
Dr. Pinchot is an assistant professor of radiology in the Interventional Imaging Section. He joined the University of Wisconsin-Madison in 2010 after completing a vascular and interventional radiology fellowship at the Medical College of Wisconsin.
The ARRS Clinician Educator Development Program will be held on April 30-May 1, 2011 in Chicago during the ARRS Annual Meeting. Congrats, Dr. Pinchot!