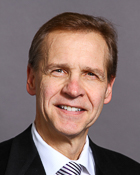 UW radiologist Dr. Myron Pozniak, of the Abdominal Imaging Section, has been appointed the 2012 Richard H. Marshak International Lecturer by the Society of Abdominal Radiology (SAR).
As the recipient of this award, Dr. Pozniak's responsibilities will be to represent SAR at the International Education Conference in Guatemala City, Guatemala in September 2012. The International Educational Conference is an annual meeting which takes place in a country that cannot support education in the field of Gastrointestinal Radiology. Dr. Pozniak will be joining the 2012 SAR Team which includes 2012 SAR Visiting Professor Dr. Perry Pickhardt.
SAR is the result of a 2012 merger of The Society of Gastrointestinal Radiologists and The Society of Uroradiology.