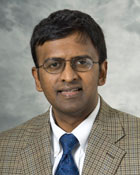 A team led by Vivek Prabhakaran, M.D., Ph.D., recently received nearly $300,000 from the American Heart Association (AHA) for their ongoing stroke rehabilitation project. Using a Brain-Computer Interface (BCI), the team is working to, "drive brain plasticity in the right direction, and use brain imaging to monitor how the brain is changing," according to Dr. Prabhakaran.
Neuroplasticity is a fundamental concept of neurology: connections within the brain are not static and can be rewired by experience. The brain is often especially susceptible to reorganization after a stroke, but not all of that plasticity is productive, according to Prabhakaran.
"We are using imaging to track changes, and characterize what changes are adaptive versus maladaptive so we can guide treatment," said Prabhakaran. "If we can better understand spontaneous changes in the brain, we can prognosticate the effects."
This team exemplifies cross-departmental collaboration, with representation from six on-campus departments. The team includes Professor of Biomedical Engineering Justin Williams, Ph.D., Associate Professor of Neurology Justin Sattin, M.D., Assistant Professor of Orthopedics and Rehabilitation Kristin Caldera, D.O., and Professor and Chair of Kinesiology Dorothy Edwards, Ph.D.
The money is spread over two grants: one award is from the national AHA, and the remainder of the money comes from the Midwest chapter of the AHA. The national AHA award was made possible due to a gift from The Marcus Foundation, Inc. who believes strongly that more research is needed to support the AHA's mission of building healthier lives, free of stroke and other cardiovascular diseases.