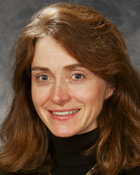 Breast cancer is the most prevalent cancer affecting women in the United States, with over 182,000 diagnoses a year. Early and frequent mammography screening has never been more important, and has helped reduce breast cancer mortality by one-third since 1990.
Many radiologists focus on breast imaging, but few do it with the passion of Professor Pamela Propeck, M.D., FACR. This is recognized nationally, and now formally, as she receives the Lifetime Service Award from the American Board of Radiology (ABR).
Dr. Propeck has served the ABR in a variety of ways, including administering the breast section of the oral Board Exam for radiology residents. She is a breast imaging specialist through and through, currently serving as Breast Modality Chief for UW Radiology. When the ABR transitioned to a computer-based exam in November 2014, they tapped Dr. Propeck to sit on the committee that designed the breast imaging portion of the computer exam.
The ABR is one of 24 boards that make up the American Board of Medical Specialties, the umbrella group that maintains standards for physician certification. The ABR administers certification tests for specialties including diagnostic radiology, interventional radiology, and radiation oncology.