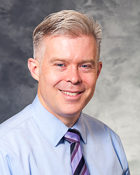 Professor Scott Reeder, M.D., Ph.D., has added yet another grant to his portfolio. This time, it's the K24 Mid-Career Investigator Award, from the National Institutes for Health. Awarded to patient-oriented researchers with a strong history in mentorship, the grant will give Dr. Reeder additional protected time for mentorship, as well as fund his ongoing imaging research.
Dr. Reeder is a prolific advisor, serving on several mentorship committees, participating in the training of nearly 80 residents, and supervising 8 graduate students as part of his leadership of the LIRP. In addition, he has recently assumed a new role as an Associate Director of the UW Medical Scientist Training Program. This will expand his mentoring role to include a large group of aspiring clinician-scientists.
The grant will also support Dr. Reeder's investigation into improved imaging tools that can assess the changes in a child's body that occur with obesity. If childhood obesity is left unaddressed, it can lead to long-term complications including diabetes, liver disease, and premature vascular disease. Dr. Reeder will investigate the connection between pubescent fat deposition and insulin resistance using quantitative MRI methods to provide accurate, non-invasive metrics of abdominal and liver fat content.
We would also like to congratulate Dr. Reeder on his election to the Board of Directors of the Society of Computed Body Tomography and Magnetic Resonance (SCBT-MR).